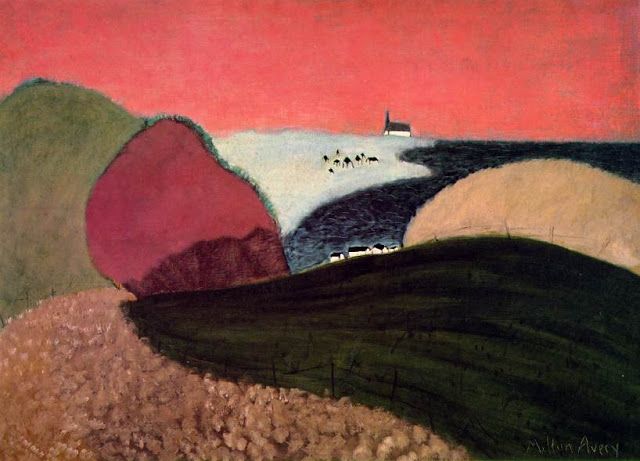 Milton Avery (1885-1965)
Hiro Fine Art is interested in purchasing artworks by Milton Avery.
Milton Avery was born in Sand Bank (now Altmar), Connecticut in 1885. He showed an interest in art at an early age and painted almost daily as a teenager. Avery dropped out of school when he was sixteen to work at the Hartford  Machine and Screw Company and the Underwood Manufacturing Company. He worked at these companies to get money to help support his family.
Milton Avery married Sally Michel after meeting her on a summer trip to Gloucester, Massachusetts and he moved to New York City in 1926. Milton enrolled in classes at the Art Students League and exhibited at the Wadsworth Atheneum's Fifth Annual Exhibition of Oil Paintings and Sculpture in 1915. He began to exhibit regularly in New York and his work was included in several important exhibitions including the Independent Artists Exhibition in 1927 and the Opportunity Gallery in New York with artists such as Mark Rothko. Milton became friends with several of the early Modernists in New York such as Rothko, Newman, Harley, and Gottlieb. Several of these artists would spend the summers together in Gloucester.
Milton Avery won several awards and his work began to be pricked up by several important New York collectors. Avery was represented by several of the top galleries in New York. These included Valentine Gallery, Paul Rosenfeld and Company Gallery and the Durand-Ruel Gallery.
During 1950 until 1963, Avery went through a transitional period in his career. He traveled to Europe and visited Paris, London, and the French Riviera. Milton also spent time in several art colonies around the east coast including the Yaddo Art Colony, MacDowell Colony, and colonies in Provincetown, Massachusetts. He continued to paint as his health began to fail. He was honored with two retrospectives at the Whitney Museum and Baltimore Museum of Art. He passed away in 1965.