Emile Gruppe
The Rapid Agility of Painter Emile Gruppe
Emile Gruppé is highly respected by critics, honored and prolific as a plein air painter and the son of Charles Paul Gruppé. He is well-known for Impressionistic paintings of the landscape and marine scenes of New England. In the early 1920s, Gruppé moved to Gloucester, Massachusetts, the oldest seaport in the United States. There he established a permanent studio and gallery, along with co-founding an art colony. It is believed that Gruppé painted every day, generating a volume of nearly two hundred oil paintings per year and leaving perhaps thousands for us to enjoy today. He was one of the first artists to establish a financial foundation in Gloucester by advertising paintings for sale in the area; his peers sold their works in city galleries. Gruppé's consistent art presence in the area was matched by his agility to create paintings.
Mesmerized by marine views, the painter Emile Gruppé is recognized for depicting various scenes of docked boats and village scenes at harbors. The fishing boats, harbor front, quiet coves and restless ocean at the Gloucester Harbor and adjacent Rockport village provided nearly all the material he needed to paint. His early work exuded a Tonalist manner and a French Impressionistic style. Like many artists at the time, Gruppé was influenced by Claude Monet, which is evident in Gruppé's landscape which is similar to Monet's Lily Series.
His mature work combined the atmospheric characteristics of Impressionism with the dynamism of Realism, reflecting the life of the city the artist worked in. For example, in The Float Rocky Neck pictured below, Gruppé presented the reality of work clutter on the shoreline. Later paintings incorporated more robust and loose brushwork, thick impasto, a richer palette, and a more comprehensive sense of compositional design.
Complementing his enduring presence in the area, he co-founded the art colony, provided art instruction, and published three books on painting techniques. At one point he stated that one should record the shapes that they see, rather than specific objects (such as a boat) as they think it should look, for more accuracy in depicting an overarching mood. He described his choice of style as providing an impression from which viewers can use their imaginations to fill in the details; he considered that effort a major contrast between painting and photography.
The painter Emile Gruppé spent nearly sixty years painting spontaneously as a plein-air artist, even creating some paintings in a matter of hours. Gruppé mastered a rapid painting process, which allowed him to capture given moments on bustling shorelines. The artist once stated, "The painter's appreciation [for the earth] is more conscious for he spends his life trying to communicate that to others." The tempo of Gruppé's productivity seems to convey his concern for sharing and affirming the beauty of the everyday.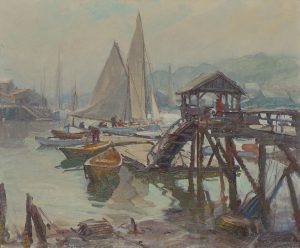 Emile Gruppé
The Float Rocky Neck
1959
Oil on canvas
25 inches x 30 inches